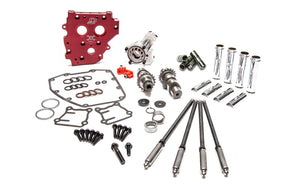 Feuling HP+ Conversion Cam Chest Kit 1999-2006 (Except 2006 Dyna)
Regular price
Sale price
$1,875.00
---
BULLETPROOF® CAMCHEST KIT!
FOR HYDRAULIC CHAIN TENSIONER CONVERSION UPGRADE

FEULING® complete camchest kits include all necessary components from top to bottom of the camchest conveniently packaged under 1 part #. These combination kits not only ensure each individual part is designed to work and function together but to do so in total harmony. These camchest kits take the guess work out of the ordering process and guarantees the engine builder maximum reliability, peak performance and the coolest engine and oil temperatures obtainable.

HP+® Complete Conversion Camchest Kits include: FEULING® HP+® high volume Oil pump, high flow Camplate, REAPER® Series Conversion Camshafts, HP+® hydraulic roller Lifters, QUICK install adjustable Pushrods, Chrome pushrod tubes, hydraulic tensioners, sprockets, roller chains, cam sprocket spacers, Timken® Cam Bearings, Gaskets, O-rings, Exhaust gaskets, ARP® fasteners, washers, moly paste, Loctite® and hardware.

Camchest kits are available in FEULING® HP+® and RACE SERIES® combinations and with gear drive or chain drive REAPER® camshafts. Fitments available for 99-17 Twin Cam® engines. 25-35 degree cooler engine temperatures, 15-30 degree cooler oil temperatures, 15-30 more pounds of oil pressure, quieter and smoother engine operation, eliminate wet sumping, blow by and oily air cleaners.

UPDATE YOUR OLD MECHANICAL STYLE CAMS AND TENSIONERS TO THE NEW HYDRAULIC STYLE TENSIONER SYSTEM

Conversion camshafts for 99-06 Twin Cam engines. These camshafts utilize the 99-06 inner cam journals with the 07-16 outer cam journals allowing the use of the 07-1 camplates, oil pump, hydraulic chain tensioners and chain drive system.

525 CAMS - A real workhorse, designed to increase torque band width and increase fuel economy. Great bolt in camshaft upgrade for stock 88 & 96 engines also performs very well in 103 strokers. Produces strong low and mid range power with a linear horsepower and torque curve. Can be used with factory valve springs, pushrods and lifters. Increases throttle response and eases starting. Will also respond well to increased compression and cylinder head work. RPM 1,750 - 5,500


543 CAMS - The Freeway Flyer, a great camshaft for those who want more top end power than our 525 cam without sacrificing low end torque. Extremely smooth cam lobe layout maintains quiet valvetrain and produces the smoothest cruise power band available. Excellent bolt in camshaft for stock to mild 96 and 103 engines and works well in 88 & 95 engines. This cam is easy starting, increases throttle response and fuel mileage. Responds well to increased compression ratio, performance exhaust and a high flow air cleaner. Performance valve springs are required on 99-04 engines and performance pushrods and lifters are recommended but not required. RPM 1,900 - 6,000

574 CAMS - Wicked power band for modified engines and an excellent bolt in for stock 96, 103 & 110 engines. This is a great all around camshaft with solid low end performance and mind blowing mid and top end power. Extremely smooth cam lobe design creates a very smooth valve-train motion. Responds very well to modified cylinder heads, increased compression ratio, performance exhaust and intake systems. Performance valve springs are required on 99-04 engines and performance pushrods and lifters are recommended. RPM 2,100 - 6,500
594 CAMS - Fiercely performing camshaft for an array of engines sizes, large displacement 103, 110 & 124 engines looking for a superior torque band with excellent horsepower gains in heavy bikes (RPM 2,200 - 6,250.) Smaller high revving displacement 95 style engines in lighter bikes looking to twist the throttle and tap into some horsepower (RPM 2,500 - 6,800). Large displacements respond well to increased compression ratio and smaller displacements will require it. 594 cams require high performance valve springs, pushrods, lifters, carburetor and or throttle body work, performance exhaust, intake and clutch.
DISCLAIMER: NOT LEGAL FOR SALE OR USE IN CALIFORNIA ON ANY POLLUTION CONTROLLED MOTOR VEHICLES


FITS:
TC 99-06 Except 06 Dyna, Conversion chain drive cams, 525 Reaper camshafts #1016, Crank sprocket #1091, Cam sprocket with timing tab #1094, Cam install kit #2063, HP+ Lifters #4000, Quick Install adjustable pushrods #4096, Chrome pushrod tubes #4095, HP+ oil pump #7060, High Flow camplate #8015, ARP Camplate/Oil Pump Fasteners #8020, Sprocket spacers #8041, Inner cam chain #8060, Outer cam chain #8061, Outer tensioner pad and housing #8075, Inner tensioner pad and housing #8076.